The Great Pirate Pyramid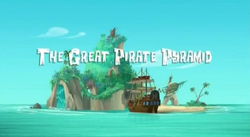 Previous Episode:Pirates of the Desert Next Episode: Mama Hook Knows Best!
Characters Present
Plot
Jake and his crew visit the legendary pirate Captain Flynn who was currently fixing his ship the Barracuda on Pirate Island. Flynn tells the crew that he is almost done but just then he finds a part of a map leading to The Great Pirate Pyramid located in the Never Land Desert. So Flynn and the crew set out to look for it but Captain Hook spots them and wants to find the Pyramid first. Captain Flynn along with Jake's crew make it too the Desert but the Pyramid isn't where the map said it would be. Just then Cubby finds writing on the back of the map and the words say to pull a lever and the Pyramid will appear. Jake finds the lever and with the crew's help they pull it down and the Pyramid appears right below where Captain Hook and Mr. Smee are. They fall down the Pyramid and roll away. Captain Flynn and Jake's crew enter and find that someone used to live there. Then they find that the piece of a map that they found in the Barracuda fits a map in the Pyramid perfectly. It shows the crew how a ship can be sailed inside the Pyramid. Flynn likes it and decides that he wants to live in the Pyramid with his pet camel named Camille. Jake and his crew say good bye to Captain Flynn and return to Pirate Island.
Community content is available under
CC-BY-SA
unless otherwise noted.