The Emerald Coconut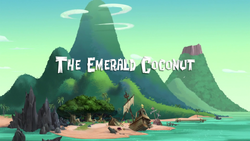 Previous Episode: Hook Seals a Deal! Next Episode: The Golden Twilight Treasure!
Characters Present
Plot
Jake and his crew receive a message from Peter Pan about a legendary Emerald Coconut hidden deep within Never Land. Cubby couldn't wait to take a picture of it for his coconut collection.Skully suggest that they simply take the Emerald Coconut but Jake and his crew remind Skully that the Emerald Coconut is all for Never Land to enjoy and that Peter Pan left be hide pirate booby-traps to keep the coconut safe from Captain Hook. Unaware that Captain Hook and Mr. Smee have been trailing the young pirate team to steal the Emerald Coconut to add it to his own coconut collection.Jake and his crew finally find the Emerald Coconut and take it picture but as the young pirate were enjoying the sight of the Emerald Coconut.Hook and Smee revel themselves and attempt to take the Emerald Coconut.Jake and his crew try pleading with Hook not to take the Emerald Coconut and warned Hook of the danger of the traps.Captain Hook ignores the puny pirates and takes the Emerald Coconut triggering the trap cage down on him and Smee, but Jake and Izzy push the villainous duo out of the way only to be captured in the cage.Smee reveals that Jake and Izzy have saved them.Jake and Izzy ask Hook to return the Emerald Coconut to free them from the cage.Hook refuses taking great pleasure in Jake and Izzy being captured, believing they will no longer be a threat to his schemes.Smee quickly points out Cubby and Skully are still free, but Hook scoffs at the pair believing the duo is not a threat as he and Smee traverse through the Never Land Jungle to the Jolly Roger at the beach.Cubby and Skully are left to recover the Emerald Coconut from Hook and Smee. But Cubby and Skully get the Emerald Coconut back from Hook in the end.Cubby returns the Emerald Coconut, freeing Jake and Izzy in the process.Jake and his crew soon return back to Pirate Island to place the gold doubloons Cubby and Skully have collected into the Team Treasure Chest. Later Captain Hook and Mr. Smee return to steal the Emerald Coconut again, only to set off Peter Pan's pirate-trap, trapping Hook in the cage.
Community content is available under
CC-BY-SA
unless otherwise noted.