Sleeping Mermaid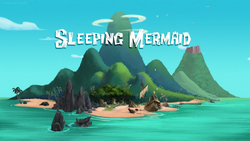 Previous Episode: The Sneaky Snook-Off Next Episode: Pirate Ghost Story
Characters Present
Plot
Jake
and his crew accompanied by
Marina
and
Queen Coralie
collect seashells on the beach, when the queen notice a stone message on rock wall warning the dangers of the
Spell Shell
which has the power to put anyone into a deep sleep. Marina soon finds the Spell Shell, but as she hands the shell to the queen it puts Coralie into a deep sleep. The only way to reverse the spell is if Jake and his crew must convince
Captain Hook
to help.Once Jake and his companions find Captain Hook he relaxing on the beach.The young pirates plead with Hook to help free Queen Coralie from the curse.But Captain Hook couldn't careless of ill fate that has befallen the mermaid queen and shoos the puny pirates away to enjoy relaxing.It wasn't until Marina offers a huge pearl to Hook as a reward for freeing Coralie.Hook reluctantly agrees to assist the mermaid queen in order to claim the huge pearl and completed the first two tasks to free her. It wasn't until he learn that final task to release Queen Coralie was he had to kiss her to break the spell.Even the pearl Marina offered Hook for a reward was not worth the humiliation and storms off. But as the sneaky captain attempts to leave, he stumbles backwards due to Jake and his crew tugging at his coat, towards sleeping Queen Coralie, kissing her. Once awake, Queen Coralie learned Hook released her from the sleeping spell through his kiss, to which both agree never to speak of this day again.Jake and his crew soon return to
Pirate Island
to place the gold doubloons they've collected in today's adventure into the
Team Treasure Chest
.
Back on the Jolly Roger Hook's crew were admiring his the massive pearl and were curious how the captain acquired such a treasure.Hook merely shakes off the question grumbling it wasn't easy.Bones offer to shin it for Hook.But the greedy captain didn't wish for anything to happen to his treasure but as he pulled away from his crewmen the pearl falls overboard on top of the head of Tick-Tock the Crocodile who continue swimming further out sea not even noticing Captain Hook leaping into the Never Sea chasing after him to reclaim the pearl.
Community content is available under
CC-BY-SA
unless otherwise noted.