Pirate Swap!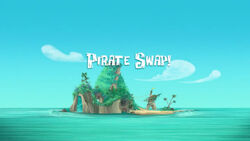 Previous Episode: The Mystery Pirate! Next Episode: Jake and Sneaky Le Beak!
Characters Present
Plot
On Pirate Island, it's Never Land Pirate Swap Day. The day where a pirate from one crew, and matey from another, switch with each others crews, so that both crew, and matey alike learn new piratey ways. The crew meets Hook and his crew on Pirate Island,Cubby brings out two coconuts, with the names of each crew member. One for Jake, and the other for Hook to choose from. Jake picks first, and he got Bones. Hook picked out a name after, and he got Cubby. Cubby got nervous about sailing with Captain Hook, but his crew encouraged him; that Hook could learn from him.
On the Jolly Roger, it was Lunch Time. Cubby saw (and smelled) the ship's special, Stinky Fish-Tail Stew, with a side of Rotten Fruit. Cubby left the table to the galley, he came back, having made Fresh Fruit. Meanwhile, Jake, Izzy, Skully and Bones, had their lunch: berries and granola.
Later, it was time for Smee, Sharky and Cubby to do chores. Cubby asked; "Isn't Capn' Hook gonna help?". Smee and Sharky laughed at the thought of Captain Hook helping. Cubby got an idea, he, Sharky and Smee did the chores, while also playing "soap hockey".Captain Hook saw what they were doing, and decided to join in the fun. Meanwhile, Skully, Jake, Bones and Izzy were working together. Bones thought it called for a song, he then showed them; that anything find could be an instrument. He picked up a bucket, to use as a drum. The others caught on, Jake made his mop, into a base guitar, while Izzy tapped two spoons together. And together, they all sang a song about "Working Together".
Later, it was time for the two crews to meet back together on Never land, but both crews had to get past a Never Land Gorilla. Cubby threw a banana he was saving for snack to distract the gorilla allowing Cubby,Captain Hook,Smee and Sharky to safety past and head to Big Stone Circle. Later Jake,Izzy Skully and Bones encounter the gorilla blocking the path.Do to Bones knowledge of animals he knew that a gorilla was tickles behind the ear,Jake suggest that Skully fly behind and tickle the gorilla, this gives the others the chance to get past him to Big Stone Circle.
That night at Big Stone Circle both Jake and Hook's crew told one another; what they learned with each others crew. When it was time to swap back and leave, Cubby gave Captain Hook the bar of soap from their "soap hockey" game.
Community content is available under
CC-BY-SA
unless otherwise noted.