Pirate Campout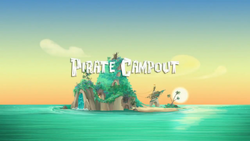 Previous Episode:Hook and the Itty-Bitty Kitty Next Episode: Izzy's Trident Treasure
Characters Present
Plot
Jake and his crew are going to have a Pirate Campout. They set sail for Never Land. Once they get there Cubby pulls out his map and lead the way to Doubloon Lagoon. Meanwhile Captain Hook is spying on the crew and hears them talk about Doubloon Lagoon. He then thinks that the whole lagoon is filled with Gold Doubloons and he is going to find it. Later Jake and his crew bump into Captain Hook while on the way to the Lagoon. Hook says that they are going camping also so Jake asks them if they would want to go camping with them and Hook excepts. Once they reach the place where they will sleep Mr. Smee, Sharky and Bones all try to pitch a tent but they end up wrecking their tent and the crew's tent. They don't know what to do until Izzy suggests that they could make one huge tent for all of them out of leaves, bamboo, and left over pieces of tent. They make a nice tent then make a fire and tell scary stories. The next morning both crew set out again looking for the Lagoon. Just as they are about to get there Captain Hook traps Jake and his crew inside a net so that he can have all the gold. Jake soon finds a way out by using his sword. They find out that Captain Hook fell into the Lagoon. They saw that the Lagoon was just in the shape of a huge Doubloon. Then the Purple Octopus comes and scares Captain Hook so Jake and his crew save him and then head back to Pirate Island.
Community content is available under
CC-BY-SA
unless otherwise noted.