Peter's Musical Pipes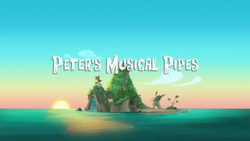 Previous Episode:Peter Pan Returns Next Episode: The Never Night Star
Characters Present
Plot
Peter Pan flies to Pirate Island, leaves something, then flies away. Jake and his crew wake up to find that Peter Pan has left his Musical Pipes. Jake reads a note from Peter Pan and it says that a musical treasure will appear when the tune from the Pipes is played. Jake and his crew set out to find the treasure. Meanwhile on the Jolly Roger Captain Hook is unhappy that Sharky and Bones play music instead of working. He makes them walk the plank and into the ocean. Later Sharky and Bones join Jake and his crew on their journey. they play music to the tune of Jake's Pipes. Soon Captain Hook and Mr. Smee notice that Sharky and Bones have joined Jake and his crew and they decide to follow them. Finally The crew finds the trees there the treasure is located. Jake is about to play the Pipes to reveal the treasure but Captain Hook swipes them with his fishing rod hook. He accidentally drops them on a rock and they break in half. Jake suggests that he plays one part of the tune and Hook plays the other. Hook agrees so Jake plays his part but when Captain Hook ties play the tune he can't. Jake convinces him to let Sharky and Bones rejoin the crew and Sharky plays the tune. The treasure is finally revealed. Both crew head back to their homes. Hook asks Sharky and Bones to do their chores and play a song while they are at it. They start singing Cranky Crook while fixing things aboard the ship.
Community content is available under
CC-BY-SA
unless otherwise noted.