" How'dya' do, mate? Pearl's me name, and arctic adventure is me game!"
―Pearl
Pearl is a recurring character from Disney Junior television series Jake and the Never Land Pirates. She is an adventurous anthropomorphic penguin from Percy's colony who later befriends Jake and his crew. She is voiced by Melanie Lynskey.
Role in the series
Pearl first appeared in the episode "The Arctic Pearl", Percy accompanied by Jake and his crew where enjoying sledding back to his penguin colony, Percy notices his friend Pearl is missing and decides to search for her. Later Percy soon finds Pearl in a small chasm with the assistance of Jake and his crew but this is short-lived when Captain Hook and his crew arrive miss heard Percy, believing he is searching for an actual pearl cause an avalanche causing Percy to get separated from Jake and his crew and with Captain Hook and Bones. Pearl took charge of the search party finding shelter for her pirate friends in to wait out the storm in a cave. Unknown to the pirates at the time the cave was the home to a furious polar bear who didn't feel like sharing his lair but Pearl is able to calm the bear down allowing the other to escape when the storm went down allowing them to continue the search for Percy., later when the storm past Percy is soon reunited with Pearl.
Pearl reappears in the episode "Into the Heart of Coldness", she and the rest of Percy's colony were captured by ShiverJack into to finding the Heart of Coldness which has the power ShiverJack need to freeze all of Never World.
While not physically appearing in the episode "Jake's Cold-Hearted Matey", the penguin colony is briefly mentioned by Jake as he suggests that ChillyZack stay in Chi-Chi-Chilly Canyon and the penguins would look out for him.
Episode Appearances
Gallery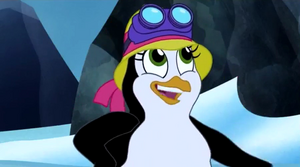 For more pictures and screenshots of Pearl the Penguin, click here.
V - E - H - D Jake and the Never Land Pirates Characters
Community content is available under
CC-BY-SA
unless otherwise noted.