Izzy's Trident Treasure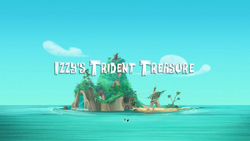 Previous Episode:Pirate Campout Next Episode: Pirate Putt-Putt
Characters Present
Plot
Marina and Stormy come to Pirate Island to talk to Jake and his crew. Stormy explains to them that she found a Map to Neptune's Trident. It is on Mount Mer-suvias,a mountain in the middle of a dried up a lake in the desert. Mermaids can't walk on land but only a mermaid can touch Neptune's Trident. Izzy was once an honorary mermaid so she can touch the trident and walk on land. Jake and his crew set out to find the trident with the two mermaids. They get to Never Land and sail trough Sandbar Straits with the help of Marina and Stormy. Captain Hook sees them and finds that they are looking for the trident. He wants the trident and he says that he is going to take it but the Jolly Roger gets stuck in the sandbar so he has to use a rowboat. Jake and his crew have to use a rowboat because of the thin canal but to current is too strong for them so they need Marina and Stormy to help them. Finally Jake and his crew reach the mountain and find the trident. Then Captain Hook try's to steal the trident but since he isn't a mermaid he can't touch it. Izzy however grabs the trident and gives it to Marina and Stormy. The crew return to Pirate Island where they find a box from Marina and Stormy. The crew find that it is Izzy's trident that is just a smaller size of Neptune's Trident.
Community content is available under
CC-BY-SA
unless otherwise noted.