Hook's Hookity-Hook!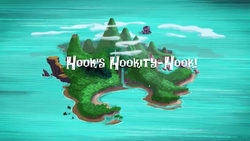 Previous Episode:Cubby's Pet Problem Next Episode: Hooked Together!
Characters Present
Plot
Tired of switching between his collection of hooks Captain Hook invents an all in one Swiss army hook called the "Hookity-Hook" so he'll always have every hook in his collection on hand.But the Hookity-hook goes rogue on it's own causing Hook and his bumbling crew to chase after the Hookity-hook all over Never Land.Meanwhile Jake and his crew were on a treasure hunt searching for the legendary golden treasure of the Palms when they bump into the Hookity-hook moving about all by itself and Captain Hook trailing behind. Jake and his crew offer to assist the captain capture the rogue hook but he refused the leaving the young pirate team to continue their treasure hunt.
While Journeying to UP Falls the waterfall that flows upward Jake and his crew encounter Captain Hook still trying to capture his Hookity-hook. Again Jake offer to help but the captain spurns but he refused to have the puny pirates meddling in his business.Finally the young pirate team reach a Thousand Palm Forest were the treasure of the Palms resides.Yet again the Hookity-Hook dart pass Jake and his crew with Captain Hook trailing behind exhausted,Jake makes a deal with the Captain if they could catch his Hookity-Hook for him, he would allow Jake and his crew the hook to get the the treasure of the Palms.Hook agreed to the sea pups terms, with careful timing Izzy used her pixie dust to lift the Hookity-Hook off the ground allowing Jake to wield it using Whirly-Hook Jake could retrieve the treasure and return the Hookity-Hook to Captain Hook who couldn't pass a chance to swipe the goldencoconut from Jake and his crew but like before the sneaky captain could strike the Hookity-Hook springs back to life yet again.
Community content is available under
CC-BY-SA
unless otherwise noted.