F-F-Frozen Never Land!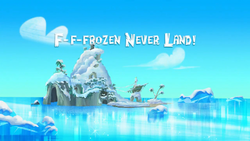 Previous Episode:Jake's Royal Rescue Next Episode: Little Stinkers
Characters Present
Plot
A blizzard strikes Never Land, and Skully catches the Birdy Flu. The only means to cure his illness is the heat of the Fire Red Rubies, located in Fire Red Ruby Valley. With the assistance of their penguin friend Percy, Jake, Izzy and Cubby make their way through a frozen Never Land, passing the Jolly Roger, which was stuck with in the ice of a frozen Never Sea. Jake offers to help Captain Hook, freeing his vessel from the ice, but the captain refuses. Overhearing Jake and his crew on the quest for Fire Red Rubies, Hook and his crew, equipped with Whirly-Hooks, make their way to Never Land and claiming the rubies to free the Jolly Roger.
After enduring the trial of a frozen Never Land, Jake and his crew finally reach Fire Red Rubies Valley, but Hook and his crew manages to reach the valley first, however, they were unable to retrieve the rubies, due to the intense heat, forcing both pirate crews to work together. Izzy use her Pixie Dust to lift the Fire Red Rubies, and Jake uses his sword to strike the rubies like a baseball bat, flinging the rubies out into frozen Never Sea, freeing the entrapped Jolly Roger, but losing the rubies to the Never Sea. Fortunately, Percy leaps into the icy water, retrieving the rubies. Mr. Smee quickly catches the rubies using a pot from the ship's galley, so it would be easier for Jake and his crew to carry the rubies back to Pirate Island
Screenshots
Community content is available under
CC-BY-SA
unless otherwise noted.