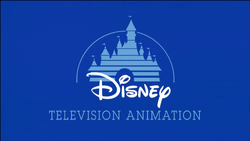 Disney Television Animation
is an animation studio that is the TV animation production arm of the Disney-ABC Television Group, owned by
The Walt Disney Company
, dedicated to creating, developing and producing animated television series, films, specials and other projects.
Established in 1985 during the reorganization and subsequent re-incorporation of The Walt Disney Company following the arrival of then-Disney CEO Michael Eisner, the entity was formerly known as The Walt Disney Pictures Television Animation Group, the name was then later changed, shortened to Walt Disney Television Animation starting in mid-1988 and was its name up until 2011, when it has been shortened again to Disney Television Animation.
The unit was originally formed as the animation production arm of the former Walt Disney Television group banner. Television Animation, itself part of The Walt Disney Studios, Burbank and formerly parented by the Walt Disney Motion Pictures Group, like all of the in-house/outsourcing television animation studios proved a commercially successful venture, as most of the animated series it produced and established were well received at best and were successful enough to gain and earn enough popularity during their initial premieres (due to virtually-acclaimed promotional campaigns and groundbreaking receptions for their animated shows). The Television Animation studio previously had some immediate eventual success in 1985, when they successfully gambled with substantially higher budgeted productions which proved profitable ventures that raised the standard for the TV medium.
In 2003, it absorbed the old U.S. Walt Disney Television group name, re-branding itself into a separate unit of its own that same year. Today, the aforementioned Walt Disney Television brand is still active as in-name-only by producing television programs internationally.
Community content is available under
CC-BY-SA
unless otherwise noted.