Disney Junior
Launched
February 14, 2011 (as a programming block)
March 23, 2012 (as a 24-hour TV channel by some television providers)
Network
Disney–ABC Television Group
Owned by
The Walt Disney Company
Picture format
480i (SD)
720p (HD)
Slogan
"Where The Magic Begins"
Country
United States
Language
English
Spanish (avalible through a separate SAP audio track by certain television providers)
Headquarters
Burbank, California, U.S.
Formerly called
Playhouse Disney
Replaced
Playhouse Disney (as a programming block)
SOAPNet (as a TV channel by certain television providers)
Sister channel(s)
Disney Channel
Disney XD
Disney Junior
is a current program block on
Disney Channel
and an United States basic cable and satellite television network that replaced Soapnet on March 23, 2012. It began airing on February 14, 2011, replacing Playhouse Disney. However, some cable channels still had it and ended Soapnet on April 19, 2012.
The first new programs were Jake and the Never Land Pirates, Tinga Tinga Tales and Babar and the Adventures of Badou. Carrying over from Playhouse Disney were Mickey Mouse Clubhouse, Handy Manny, Little Einsteins, Jungle Junction, Chuggington, Imagination Movers, Special Agent Oso, and Timmy Time.
History
In May 2010, it was announced that Playhouse Disney and Soapnet will rebrand as Disney Junior.
Disney Junior first launched as a programming block on February 14, 2011, replacing Playhouse Disney. On the day before the launch, Playhouse Disney's Ooh and Aah mascots and programs were deleted completely during the process of the transition from Playhouse Disney to Disney Junior. The first program was Jake and the Never Land Pirates. In its first week since its debut, Disney Junior delivered Disney Channel's best ratings ever in the daypart among Kids 2-5 (474,000/2.8 rating)
Cable and satellite channel
A 24-hour basic cable and satellite channel for Disney Junior launched on March 23, 2012, replacing the soap opera channel, SOAPnet.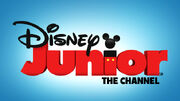 The channel was originally set to debut in January 2012, but on July 28, 2011, soap opera-focused websites listed the launch date as moving from January to a more non-specific date in late-spring 2012, and later in 2011, to February 2012. Soapnet's definite closing date (March 23, 2012) was announced by Disney-ABC on January 9, 2012. However, like the transitions from Nick GAS to TeenNick and Fox Reality to Nat Geo Wild, an automated version of Soapnet's program schedule will continue on some cable and satellite services, as deals for Disney Junior are finalized.
The channel is expecting its original series (Jake and the Never Land Pirates, 3rd & Bird, etc.)
Community content is available under
CC-BY-SA
unless otherwise noted.