Cookin' With Hook!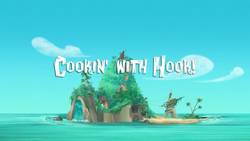 Previous Episode:Season of the Sea Witch Next Episode: Captain Flynn's New Matey
Characters Present
Plot
It was time for Never Land Feast Day (Thanksgiving) in Never Land, Jake and the crew were preparing a big, tasty meal. And Cubby, was going to make Shipwreck Stew. But it needed 3 ingredients from Never Land; Green Tick-Tock Tomatoes from Crocodile Creek, Hot-Lava Beans from Belch Mountain ,and a Jumpin' Pumpkin from the Pirate Pumpkin Patch. So the crew boarded Bucky, and set off for Never Land.
Captain Hook was preparing a feast too. His mother, Mama Hook, came to cook with him. But, she needed the same foods that Cubby. She was gonna make: Fried Green Tick-Tock Tomatoes, Hot-lava Bean Chilly, and a Jumpin' Pumpkin Pie (based on the traditional Thanksgiving dessert, Pumpkin Pie).
On Never Land, Jake and the others were gathering the Green Tick-Tock Tomatoes at Crocodile Creek, and the Hot-lava Beans at Belch Mountain. But Hook didn't get the chance to get any of each.
Later, at the Pirate Pumpkin Patch, both crew went after the Jumpin' Pumpkin. Jake and his crew got it, but Hook snatched it away from them. The pumpkin was still jumping though, and it threw Hook off a cliff, into Cranberry Bog (based on the Cranberry Sauce at Thanksgiving). Izzy used her pixie dust to fly Hook back up, despite this Hook was sad that he wouldn't get any of his mother's cooking. Jake and the others felt sorry for Hook, so they gave him their food.
Community content is available under
CC-BY-SA
unless otherwise noted.