Captain Hook's Hooks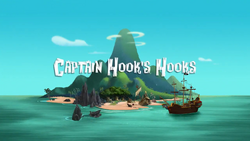 Previous Episode:Captain Hook is Missing! Next Episode: Mr. Smee's Pet
Characters Present
Plot
Captain Hook notices that his prized hooks are filthy. He orders Sharky and Bones to clean them while Sharky and Bones tending to the hooks the octopus creeps aboard and steals eight hooks from Sharky and Bones and slips back into the Never Sea with Sharky and Bones in pursuit fearing the fate Hook will have in them when he discover his hooks missing,Mr. Smee tries to stall Hook until Sharky and Bones recover the missing hooks. Mr. Smee also says that if Captain Hook finds out, he will make Sharky and Bones walk the plank. They chase the Octopus to Never Land when they lose sight of the octopus and run into Jake and his crew who offer to help Sharky and Bones retrieve the hooks.
While searching the island the pirates encounter the Octopus soaring through the sky using the Whirly-hook they later retrieve said hook when the Octopus makes another round by climbing up a palm tree. Later the octopus tries to evade the pirates using the Fishing Rod-Hook to climb up cliff side out of the pirates reach but Jake manage to out wit the slippery cephalopod using the Whirly-hook retrieved earlier to beat the Octopus to the top of the cliff and retrieve both the fishing rod and butterfly net hook and a few other hook before the Octopus flees down to the beach, using the Shovel-Hook the Octopus conceals himself with a giant sandcastle.When the pirates reach the beach they discover the sandcastle became very suspicious with a closer inspection of the castle Izzy spots one of the octopus tentacles popping out of the castle Cubby quickly used the Feather-Hook to tickle the Octopus submission allowing the other pirates to retrieve the last hooks before flying back to the Jolly Roger with Izzy's pixie dust.
With hooks are restored to Hook's cabinet Sharky and Bones thank Jake and his crew who fly back to Pirate Island. However in the mix of getting the hooks back the hooks are even more filthy when Captain Hook order to clean them. Sharky and Bones are forced to walk the plank but are caught by the Octopus down below who bounces them on his tentacles for fun. Smee joins in the fun Hook deciding to forgive them and surprisingly join in the fun too.
Community content is available under
CC-BY-SA
unless otherwise noted.