Captain Gizmo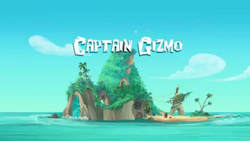 Previous Episode: Who's a Pretty Bird? Next Episode: Jake's Pirate Swap Meet
Characters Present
Plot
Jake and his crew were tending to the tiki that conceals the were about to the hideout a crate suddenly washes on to Pirate Island.The young pirates constructed the mechanical pirate. Jake and his crew quickly took a shine to their new matey and marvel at all the feats he could do while they played a game of catch. Unaware that they weren't the only one taken by Captain Gizmo, Captain Hook decides to take the mechanical pirate for himself while he was out of the young pirate crew's sight.
Captain Hook orders Gizmo to bring him the treasure of Belch Mountain that lies deep with in the volcano, which proved too dangerous for Hook's bumbling crew. Gizmo does as he is told, making his way through the bowls of Belch Mountain, reaching the treasure and making his way back across a lake of lava when his power begins winding down when Jake and his crew catch up to Hook. Using her pixie dust, Izzy rescue Captain Gizmo from the lava but, before the pirates could go, Belch Mountain threatened to erupt, sealing them with in the volcano. Cubby quickly winds Captain Gizmo to rescue both Hook and the rest of the crew. Captain Gizmo is last seen back on Pirate Island with Jake and his as they put the doubloons they gather in their adventure into the Team Treasure Chest.
Community content is available under
CC-BY-SA
unless otherwise noted.